Voice Support
Summary
Learn how to configure the Busy Lamp Field feature in VoiceManager.
Solution
The instructions on this page are specific to the new VoiceManager portal. If you have not opted-in to this trial, you may find support for the previous version of VoiceManager at the VoiceManager Learning Center.
Feature Description
The Busy Lamp feature works with the Internet Protocol (IP) Phone and enables a user to see when designated users are engaged in a telephone call. It is available with VoiceManager packages and the IP Centrex service.
 
Monitored users are those individuals whose phone activity can be observed by others through the Shared Call Appearance feature which is available on IP Phones and Receptionist Console software.
 
Follow the steps below to set up the Busy Lamp Field feature. 
1
Enter your User ID and Password to log in to VoiceManager MyAccount, then click the Sign In button.
 
2
Click the VoiceManager Tools menu in the left navigation bar.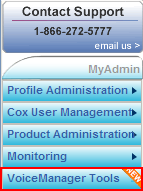 3
From the Dashboard, click the Advanced All Settings tab.
 

4
From the Team Calling section, click the Busy Lamp link.
Result: The Busy Lamp page displays.
 
5
To select the user you want to monitor, use the Search method to find a user or choose the user from the list of Available Users.
To search for a user, click the down arrow to select whether you want to search by the user's last name or first name; or enter two or more characters in the text field and click the Find button.
 
Result: The user displays in the Available Users panel. 
 



 

To select a user from the Available Users panel, you have the option to click the Filter by: drop-down menu and find users in a specific account or highlight the user's name that currently displays in the panel and click the Add button.
 
Result: The user displays in the Monitored Users panel. To move all users from one panel to the other, click the Add All or Remove All button. 
 


 

Once the list is complete, click the Save button.