TV Support
Summary
Find information on reading and understanding each section of your Cox Business Services paper bill.
Solution
If you are interested in paying bills online, visit MyAccount.
General billing information
Cable, Internet, and Local Telephone Service as well as any features you have, are billed one month in advance. If services are only provided for a partial month, monthly charges may be prorated based on days of service. Long distance, local toll charges, directory assistance, and operator-assisted calls are based on usage for that billing period. The total amount on your bill is due by the due date printed on your bill.
 
For more information regarding merging multiple bills into one, call Cox Customer Care at 866-272-5777.
Page One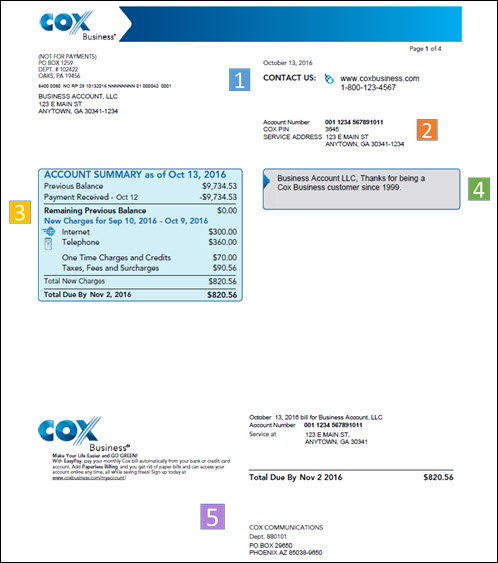 Contact Us
Account Number, Cox PIN, and Service Address
Account Summary - Reflects the following details:

Bill print date - Displays as the "as of" date
Previous Balance
Payment Received
Summary and total of new charges
Total Due and the due date

Important messages
Payment Coupon - When mailing your payment, simply tear off and enclose with your payment.
Page Two
 
Monthly Services - Reflects services received for the billing period
One Time Charges and Credits - Reflects any non-recurring charges 
Taxes, Fees, and Surcharges
New From Cox - Includes information on changes regarding your account and services
Payment Options - Presents convenient payment options including 24/7 automated phone, cox.com
EasyPay® and paperless billing