Data Support
Configuring SMTP Authentication in Windows Mail
Last Updated: Mon, 14 Nov 2016 > Related Articles
Summary
Follow these steps to configure Windows Mail for SMTP Authentication.
Solution
About SMTP Authentication
Simple Mail Transfer Protocol (SMTP) is the Internet standard language used to send email. SMTP Authentication requires that a user provide a valid username and password to authenticate before the user is allowed to send email.

SMTP Authentication will help to improve security and reduce spam originating from the Cox network. Authentication will also help to ensure that mail sent from the Cox network is from legitimate customers. This is critical in maintaining the integrity of the Cox network and our reputation with other large Internet and email service providers.
2
From the Tools menu, select Account Settings.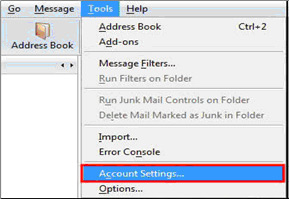 3
In the left-side menu, click Outgoing Server (SMTP). 
In the Outgoing Server (STMP) Settings portal, select the email account.
Click Edit.
4
Enter the correct outgoing server name and port information:
Server Name is smtp.coxmail.com
Port is 465
Select User name and password.
User Name is the customer's email address
Select Use secure authentication
Connection security is SSL/TLS
Click OK.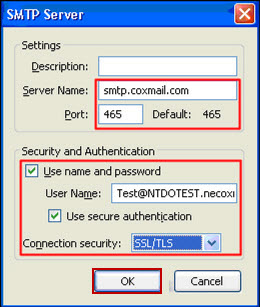 5
Click OK to save the changes and close the Account Settings window..