Billing & Account Support
Scheduling Recurring Payments Online Through EasyPay
Last Updated: Wed, 16 Nov 2016 > Related Articles
Summary
Cox Business Services customers who have registered a MyAccount profile can set up automatic recurring payments through EasyPay.
Solution
Follow these steps to set up automatic recurring payments using EasyPay.
 
Prior to setting up EasyPay, you will need to have the method of payment entered on the Payment Method window. See Entering a Payment Method in MyAccount for steps on adding a method of payment.
1
Go to MyAccount.coxbusiness.com log in using your User ID and Password.
 
Note: If you have not yet registered for a User ID, you may do so by selecting New to Cox Business MyAccount? Register now.
2
Click Billing Tools.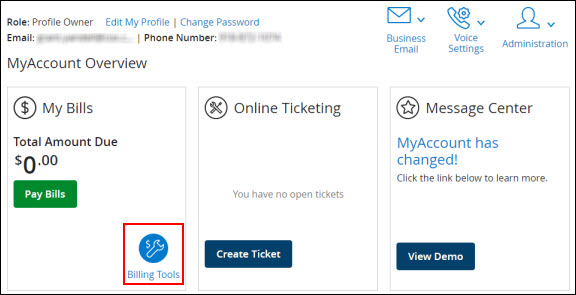 3
On the Billing Tools window, click Manage EasyPay.
 


4
Do you have more than one account?
If yes - Click the account you want to enroll in EasyPay, and click Next.
If no - Click Next.
5
Click the Statement you want to enroll in EasyPay.
Click the Payment Method you want to use.
Click Continue.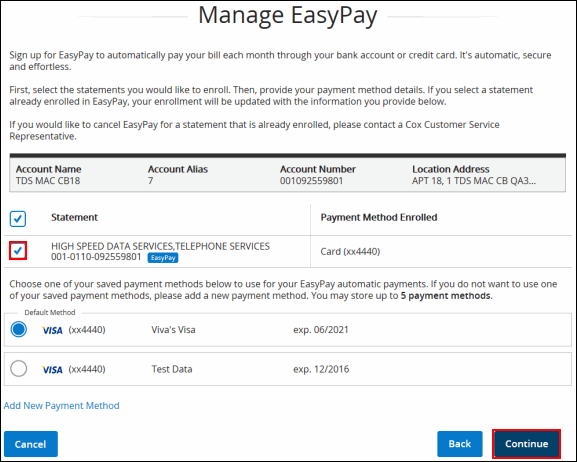 6
On the Review & Authorize EasyPay Request window, confirm the information is correct.
 
Note: If any changes are needed, click the Back button.
 
Under Terms and Conditions, review the Terms and Conditions of Authorization Disclosures, then click the box.
In the Signature box, enter your name.
Click Submit.